Kuan-Chuan Peng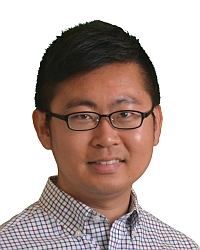 Position:

Research / Technical Staff

Principal Research Scientist

Education:

Ph.D., Cornell University, 2016

Research Areas:

External Links:
Before joining MERL, he was a Research Scientist (2016-2018) and Staff Scientist (2019) at Siemens Corporate Technology. His PhD research focuses on solving abstract tasks in computer vision using convolutional neural networks. In addition to his PhD, he received a bachelor's degree in Electrical Engineering and an MS degree in Computer Science and Information Engineering from National Taiwan University in 2009 and 2012 respectively. His research interests include incremental learning, developing practical solutions given biased or scarce data, and fundamental computer vision and machine learning problems.

Date: May 22, 2022 - May 27, 2022
Where: Singapore
MERL Contacts: Anoop Cherian; Chiori Hori; Toshiaki Koike-Akino; Jonathan Le Roux; Tim K. Marks; Philip V. Orlik; Kuan-Chuan Peng; Pu (Perry) Wang; Gordon Wichern
Research Areas: Artificial Intelligence, Computer Vision, Signal Processing, Speech & Audio


Brief

MERL researchers are presenting 8 papers at the IEEE International Conference on Acoustics, Speech & Signal Processing (ICASSP), which is being held in Singapore from May 22-27, 2022. A week of virtual presentations also took place earlier this month.

Topics to be presented include recent advances in speech recognition, audio processing, scene understanding, computational sensing, and classification.

ICASSP is the flagship conference of the IEEE Signal Processing Society, and the world's largest and most comprehensive technical conference focused on the research advances and latest technological development in signal and information processing. The event attracts more than 2000 participants each year.

Date: June 14, 2020 - June 19, 2020
MERL Contacts: Anoop Cherian; Michael J. Jones; Toshiaki Koike-Akino; Tim K. Marks; Kuan-Chuan Peng; Ye Wang
Research Areas: Artificial Intelligence, Computer Vision, Machine Learning


Brief

MERL researchers are presenting four papers (two oral papers and two posters) and organizing two workshops at the IEEE/CVF Computer Vision and Pattern Recognition (CVPR 2020) conference.

CVPR 2020 Orals with MERL authors:
1. "Dynamic Multiscale Graph Neural Networks for 3D Skeleton Based Human Motion Prediction," by Maosen Li, Siheng Chen, Yangheng Zhao, Ya Zhang, Yanfeng Wang, Qi Tian
2. "Collaborative Motion Prediction via Neural Motion Message Passing," by Yue Hu, Siheng Chen, Ya Zhang, Xiao Gu

CVPR 2020 Posters with MERL authors:
3. "LUVLi Face Alignment: Estimating Landmarks' Location, Uncertainty, and Visibility Likelihood," by Abhinav Kumar, Tim K. Marks, Wenxuan Mou, Ye Wang, Michael Jones, Anoop Cherian, Toshiaki Koike-Akino, Xiaoming Liu, Chen Feng
4. "MotionNet: Joint Perception and Motion Prediction for Autonomous Driving Based on Bird's Eye View Maps," by Pengxiang Wu, Siheng Chen, Dimitris N. Metaxas

CVPR 2020 Workshops co-organized by MERL researchers:
1. Fair, Data-Efficient and Trusted Computer Vision
2. Deep Declarative Networks.